Tea Party Invitations Can Help
Set The Mood of Your Party
One of the first things you need to think about when planning your tea party are the tea party invitations. When choosing your invitations, take your tea party theme into account.
Not all tea parties will warrant a formal invitation. But, some will. So, depending on the party's theme and circumstances, you can decide whether or not to send a formal invitation. It really is up to you.
If you decide to order formal invitations, and are going to mail them to your guest, make sure to order them at least 4 weeks before your party. The charming one to the right is from an online card company called CreationsByLeslie.com.
Normally, if you are going to mail out your invitations, you should send them out 2 weeks prior to the date of the party.
Some people may prefer to call and personally extend an invitation to a Tea Party versus mailing an invitation. This might be appropriate if you are running short on time, or if there will only be a couple of people.
For example, an informal party of your 3 closest friends would not require a formal, store bought invitation. But it might be appreciated if you follow up after a phone call with a hand written, or hand-made invitation, just as a reminder.
Less formal events can be a wonderful opportunity to make an original hand-made invitation your friends will surely treasure. If you are at all crafty, or enjoy scrapbooking, this would be a perfect occasion to showcase your artist side!
What are the main elements of an invitation? Well, here is the basic anatomy of any invitation:
Who (Who is throwing the party)


What (What kind of party is it going to be)


Why (Why are you having a party)


When (When is the party-give a date; time-start/stop)


Where (Where is the party going to be located?)
And last, but not least:
What else (an opportunity to let your guests know important details such as dress code, whether to bring a gift or not, and any other pertinent information your guest might need)
Hand-Made Tea Party Invitations
The informal party and a hand-made invitation really presents an opportunity to customize the invitations to the party.
Here are a few ideas that you can use to get you started:
A Tea Party in your garden, to welcome in Spring
A Victorian Tea Party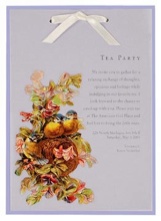 A wonderful example of a sweet hand-made tea party invitation is shown here, that is very doable and even comes with instructions! Be sure to check this one out.


Free Printable Tea Party Invitations
If you would rather download a free printable tea party invitations, here is one source I found on the internet: a cute little teapot printable invitation in Adobe format. This would make a nice, inexpensive, last minute invitation that you could print off on your home computer in a jiffy.
Want some more inspiration? While these invitations are not printable, but they give some nice illustrations of what can be done.
Free Victorian Clip Art
Here is a very nice, free Victorian clip art site, and an antique clip art site that you can use to make your own invitations. Below is an example of one of the free antique clip art picks from AntiqueClipArt.com. I can envision this sweet pea floral pick being printed out and mounted on thin foam board, and then placed on card stock with adhesive (creating a floating effect), to make a unique and charming hand-made tea party invitation.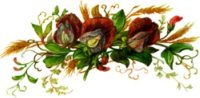 Check back a little later, I plan on adding some "how to" video, demonstrating making a Victorian Tea Party Invitation from the sweet pea floral pick above.
Click here to return from Tea Party Invitations to Cozy Cottage Tea's Home page