Choosing Tea Cups to Complement
Your Tea Party!
One of my personal all time favorite books is, If Teacups Could Talk by Emilie Barnes, with lovely paintings and illustrations by Sandy Lynam Clough. You really ought to have this in your tea library.
Why do I recommend this book? Well Sandy Clough's painting of antique tea cups alone make this a "must" have book. But the chapter, "Fill Me with Memories; The Legacy of the Teacup" details how Emilie Barnes happened to inherited her mother's teacups, which is the typical way most of us start our collection of tea cups.
The teacup is essential to any tea party. Yet the material it is made from is as varied as the themes for a tea party.
So, lets take a look at the different materials tea cups are made from.

Porcelain

Bone China

Ceramic

Stoneware
Here are some reviews and suggestions of Clay Tea Cups.

Pyrex

Glass

Double pane

Insulated glass
Here are some reviews and suggestions of Glass Tea Cups.
Plastic and Paper, which includes:
Styrofoam

Plastic

Disposable


Here are some reviews and suggestions of Plastic and Paper Tea Cups.



What to do with a Tea Cup Collection
that you have inherited?
When I first began writing Cozy-Cottage-Tea.com I had an opportunity to have my site critiqued by several other website owners and designers.
One lovely woman asked me a very thought provoking question: "Did I have any suggestions on what to do with a collection of inherited antique teacups, to get them off the shelf?"
Ah . . . as a matter of fact I do! Lots of ideas!
So here are some suggestions. I hope you find some ideas here that inspire you.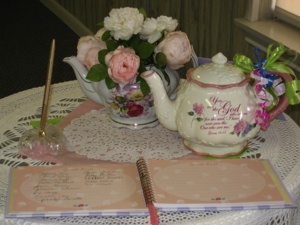 Give a bridal shower tea party! This is something that I co-hosted with my nieces' womens church group for her bridal shower.
Several of the women had gotten together and decided to throw her a bridal shower. I asked if I could provide the cups and serve the tea. This arrangement worked out wonderful.
Since I lived out of town, the womens group provided all the props, food, space, tables and chairs. They had a very functional trolley, upon which I arranged all my most prized collection of teacups and teapots.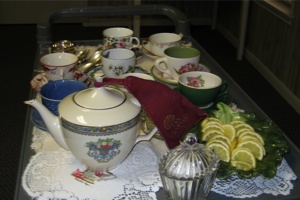 Everyone got to pick out the teacup they wanted to use, and I served them tea in that cup. It was a wonderful experience, and one I think my niece will remember forever.
Especially since she got to choose the teacup she wanted to use first, before anyone else, and at the end of the party, I allowed her to keep the teacup.
This way, she can start her own collection.

Tip: If you have other teacups, that you don't mind parting with, you could use them to make "thank you" gifts for the hostesses and the mother of the bride. For instructions and directions on how to do this, click here.
Another idea, that is dedicated to Rebecca, who loves to have tea with her family and play scrabble, is to take some of your inherited collection of teacups, and fill them with scrabble pieces and a few of your favorite teas. Then wrap the teacup and saucer up with tulle, tie it off with a pretty ribbon and give one to each child or grandchild.
You could glue scrabble pieces together to spell out their names or initials. Click here to see an example.
This way they will always have something to remember you by, and they will fondly recall the times you played scrabble together. Perhaps it will inspire them to start their own family teatime tradition.

click here to return to Cozy Cottage Tea's home page from Tea Cups